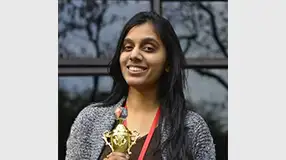 Malvika Bahety, (PGDM 2015-17 FORE School of Management), says she joined FORE not only because of its excellent faculty but also because "it offered an International Immersion Program which other colleges did not provide."
She says that the institute has several positive attributes – the advantage of a location in the heart of Delhi, an experienced faculty and a good return on investment (ROI). With most MBA students being concerned about the amount of time it would take to repay the investment they've made, this, for her, was a major point of consideration.
Talking about the teaching methodology, Malvika says that all the activities in class are geared towards helping students learn more effectively – this focused on assignments that would help them in their future careers. She gives the example of a project in a sales and distribution class where students were asked to carry out a primary research. This entailed communicating with various distributors and retailers, which, Malvika says, "really helped us understand the theoretical concepts we were taught in class."
Malvika is especially grateful for the international exposure she gained during the International Immersion Program. "I feel lucky to have gained the experience of studying in Singapore at Nanyang Business School, Nanyang Technical University, one of the top universities in the world," she says. The faculty at the university was excellent, she continues, explaining that they taught students using authentic case studies, which made subjects easy to relate to and understand.
Summing up her experience at FORE, Malvika says that it has given her a lot of exposure and helped to enhance her personality. "I have had various opportunities which included participating in intra-college as well as inter-college competitions where I won prizes," she says. Malvika was also part of the student council, and being in the public relations team helped her get a lot of experience in organising and handling the various events and campaigns at the institute. All of this, she emphasises, made for a great experience!