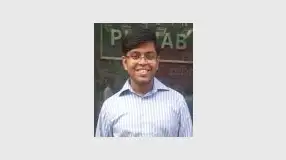 "I would recommend the WMG program to professionals because it's very industry-relevant and you can relate to the learning easily."
After completing his engineering degree from Jaipur, Neelutpal Saha got a job with Sony Ericsson. It brought him to Delhi about 3.5 years ago, and in his time with Sony, he has managed to gain substantial work experience. But, Neelutpal has set his sights on growing beyond his position as a Senior Engineer with the company, which is why he opted for the Working Managers Group at FORE School of Management, New Delhi. And, according to him, joining the Part Time PGDM program for working professionals is the best thing he could have done for his overall growth.

Discussing this decision, which he expects to be career defining, Neelutpal says, "I wanted to do my MBA while keeping my job as I didn't want to drift away from my field of technology. FORE School of Management has a rich history and it's their 22nd batch now. The WMG program suited my needs perfectly, which is why I didn't have to think twice before joining it." It might have only been a year since he started with the program, but Neelutpal believes that it has already shaped him as a person and a professional. "It has worked wonders for my self-image", he says. "It has also made a world of difference to my interpersonal skills, which has led to a big improvement in my work area. Things I learn at WMG help me get a better perspective of the market and customers, which helps me immensely." Neelutpal makes a mention of the teaching pedagogy, which involves case studies and an education in real-world experiences from fellow professionals. According to him, this helps create a dynamic learning environment for the group.

Managing studies and work can be a tightrope walk for all professionals and Neelutpal admits that things can get hectic at times. "But my teachers are extremely considerate and understanding", he tells us. "They offer us all the support and make sure we finish our assignments on time. I am also learning a lot about time management, which is important for all professionals." Neelutpal, in fact, looks forward to coming to his class because he gets a break from his work routine and an opportunity to interact with classmates from different backgrounds.

But according to Neelutpal, the best part about the program is the fact that it's relevant to present day industry. He also believes that faculty members with extensive industry experience ensure students grasp the practical aspects of learning. Another highlight of the WMG program is that there are different certification courses that students can opt for in the third year. Neelutpal is aiming for Six Sigma because, he states, "I like operations and how things are managed. Six Sigma is important to get the best from your industry, manage the cost and effective utilization of the resources."
With his eyes firmly set on the future, Neelutpal wants to use his learning experience from the program in his current position before taking on a more market-centric role in the future.