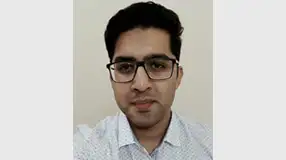 Imaad&'s tale across 10 cities, two continents, a desert, and finally FORE
The traveller feels at home everywhere, because he is never at home anywhere." But sometimes you need to put down roots in order to spread your wings and soar towards new horizons. That's exactly what Imaad Beg has done on FORE School of Management campus in the National Capital. The young Kashmiri man, born and raised in Saudi Arabia, has done schooling in four different cities of Ireland. Completing graduation from Pune, he spent some of his growing up years in Delhi and Kashmir. Moving around in three countries has offered him unique life experiences that he brings with him to the campus. Pursuing PGDM, he remains open to new experiences with an eye on starting his own venture in Kashmir. Maybe home is where your heart is after all. Here's Imaad's tale across 10 cities, two continents, a desert, and reaching the "home stretch" of his career goals through FORE School of Management.
How would you describe your experience of growing up in Saudi Arabia and living in cities across Ireland and India?
Honestly I don't think I appreciated the experience at the time as much as I do today. Meeting people from all over the world and finding my own place in a new setting frequently came with its challenges. But I think it has all paid off today. Growing up in Saudi Arabia, studying in Ireland, and spending time in my hometown in Kashmir have all shaped the person I am today.
How did studying in different countries affect your academics? Did it work as an advantage or lead to difficulties?
It does affect your academic journey, because it is an unending process of adapting and adjusting. The education system in Saudi Arabia is very similar to India, where you focus on theory and books. But when I was in Ireland I was asked to step away from books and express my imagination. Yes, my grades suffered initially. But I began to adapt and learn quickly.
So what are the main differences in the education system that you noticed? How do you weigh the pros and cons?
Theory and books based knowledge definitely has its benefits. But because of focus on Mathematics and Science, students don't explore their inherent talents to the fullest. In Ireland music, arts, and technical graphics were major parts of the curriculum and I had the talent for the latter. That experience moulded me to be more open minded and confident and to think on my feet.
You had spent a childhood year in Delhi and you have come back now. What are your impressions?
As a kid I remember playing in my neighbourhood park. Of course, things have changed a lot. One of the advantages of being at FORE School of Management is that it is centrally located. I have been to Hauz Khas Village and Select Citywalk mall, where we can engage in fun activities. We are minutes away from all the major attractions and I want to take advantage of that.
Did it take you some time to find your feet and comfort zone on campus?
It's interesting that even after moving around for years I find interacting with new people a nerve wrecking experience. But in spite of being nervous of a fresh start at FORE, I quickly found myself at home on campus and comfortable with my peers. There is a homely feel to the hostel and my batch mates and seniors are extremely helpful.
What have been the highlights of studying at the B-School so far?
What makes FORE School of Management stand out is the diverse student crowd from different backgrounds, work experience, etc. Whether being part of committees or the college fest Genesis, it has been a refreshing experience. I look forward to the International Immersion Program in Singapore because of the exposure it will offer me.
In your time here so far, have you been able to identify the specialization you want to pursue?
I have actually promised myself that I will give each domain a fair chance before deciding. However I must say that so far I feel inclined towards Marketing. It's because of the scope for growth and development offered by the domain. There is also the added benefit of versatility in a career involving Marketing.
Are you looking ahead to what happens after the program and future career prospects?
Just the name FORE School of Management instils confidence in me – that I will be offered many dynamic placement opportunities. I will look for a job that focuses on growth rather than just decent CTC. Market research or marketing design campaigns would keep me satisfied. I don't mind working in Delhi or anywhere else in the country. But eventually I want to set up a venture in my hometown in Kashmir.