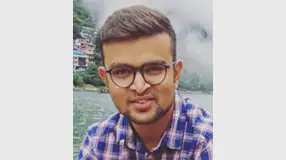 Management Student by day, Entrepreneur by night – Bharat Natani of Attrum Global talks about
his passion for Gems
Since childhood Bharat Natani aspired to own a multimillion-dollar enterprise. His dreams wouldn't let him sleep. That no two natural gems are the same, made little Bharat wonder about the deep blue sea, its magnanimous treasure, and the world of gems. He knew his life's calling: to have his own treasure trove, his own collection of gems stored in the Attrium of his heart.
For young Bharat, a formal education wasn't the top priority in his teens. He felt he had it in him to build a business, inspired by his father and grandfather. In his twenties, Bharat was taking private tuitions, trading in emerald, grading and pricing gem stones and what not! However, graduating from college, he realized a successful business needs sound theoretical knowledge to deliver the best in practice. It was then that PGDM at FORE School of Management, New Delhi happened.
Today the final-year B-School student runs a 100% exports oriented company Attrum Global Pvt. Ltd. that sells gems and silver jewellery in 13 countries across the globe. What does it take for this entrepreneur in his early twenties to successfully balance a demanding PGDM course and an equally challenging business? Let's hear from him.
"Like every entrepreneur, I had my share of setbacks" – Bharat on his struggles and turnarounds
Along with his brother and two friends, Bharat launched Attrum with plenty of passion, but sadly, not a lot of planning and research. He admits he had no idea about aspects like product photography and creating a website or crucial components like company laws. Naturally, the company stumbled miserably a few times. But they stayed steadfast in their commitment. "We spent months learning the required skills. After the India operations failed, we decided to focus on the foreign market. We did enough research and things began to fall into place. Today we sell in 13 countries and our gemstones and silver jewellery is appreciated by big names and corporate honchos."
Bringing his best to the FORE classroom and taking the best along
Bharat is currently pursuing PGDM at FORE School of Management, New Delhi to take his skills to a higher level. He focuses on academics during the day and business at night. He also travels to Jaipur during weekends to take care of business responsibilities and make the best of both worlds – as an entrepreneur and a student. "I have gained a lot from the program. First, I have learned the important skill of time management. Second, I have learned to build long-term relationships with people. Finally, I have also learned the art of negotiating and selling. These attributes are crucial for an entrepreneur."