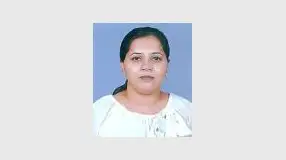 Ms. Neha Puri had already gathered 15 years of work experience and has big name companies like Birlasoft, Lava Mobile and Infogain on her resume. Today, as an entrepreneur, she runs a training firm and a company that specialises in wholesale and global sourcing for home furnishing. However, she also wanted to pursue higher education in management studies, which brought her to the Part-time PGDM , popularly known as the Working Managers' Group (WMG) of FORE School of Management, New Delhi. The part time PGDM program was an ideal fit for a working professional like Neha, who describes her first year at the institute as enriching.
Talking of her decision to join the program Neha says, "I never really had the time for it before but I decided to take the plunge now. It has been exciting for all of us in the batch because we are studying after a long time away from school. It took us a while to get a hang of it, but there's so much to learn." The transition from work to classroom has had its challenges for her, especially since she had to unlearn some things that she has learned on the job. But, according to her, understanding the theoretical part of practices she has applied in the past has been worth it.
Ms. Puri has worked in the HR industry most of her career and her job involved employee management in organizations she worked with. "It is critical for their survival; and although I worked on several employee engagement activities I didn't know which motivational theory I was working on", she explains. "But now I understand which theory is put into practice when I am at work". As an HR professional, Neha had also talked to a few seniors who were a part of WMG at FORE School Of Management, New Delhi. So, choosing FORE for her own management studies wasn't a tough choice. However, she does find the role reversal, amusing.
In a programme like the WMG, where individuals are also bound in tight work schedules, time management can be a tightrope walk; but, according to Neha, adjustments have to be made to balance both. As the CR of her class, she also manages fellow students ? but that's not a tough ask for the seasoned HR professional. Discussing her experience as CR, she says, "It takes time for any group of people to understand each other; we finished that story in the first month and a half of being together. We understood each other's strengths, capabilities, weaknesses, attitude and aptitude; it's been smooth sailing since then".
As Neha pursues her Part-time PGDM program, she finds an additional dose of confidence instilled in her. And that's boosted her ambitions for the future. "I plan to open an overseas office in Dubai", she tells us. "Going global will be difficult as I manage my studies but I am sure I'll do it". Doing the management course after gaining work experience has definitely worked out for Neha and that's her advice to other professionals too: "The impact of doing your management studies after some work experience is immense. You relate to and understand things taught in the classroom much faster and your perspectives add to the learning experience".