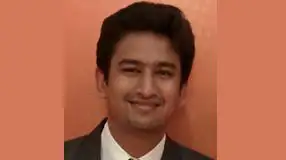 To most of his colleagues in FORE School of Management, New Delhi Ashish Jalan is a clear-cut achiever. Placed on-campus as a Territory Account Manager, with a package of 9 Lakhs, Ashish has excelled in almost all aspects of life at FORE School of Management. With an impressive CGPA of 3.12, he is amongst the top few in his batch. Hardly an event goes by which does not have Ashish's active involvement. As a Guitarist, Ashish can hold his chords pretty well, and is therefore the life of on-campus parties at FORE. On a light day you will find Ashish either playing his favourite game, Snooker, or poring over a series of puzzles; and, when he has a day's time in hand, he likes to visit an orphanage or an old age home. But what is most intriguing about Ashish is this: the harder the task, the heavier the workload, the better he seems to get. Ashish shares the secret of his success with us: "Yes, it is natural for people to crib over the schedule and curriculum, but I personally believe that if you learn to manage your time well, you can always do whatever you wish to and that's what I have been doing."
In a sense, Ashish's tenacity also springs from his adversity. His journey to the elite FORE School of Management, New Delhi is a story of guts and determination. He comes from a business-oriented family based in a small town near Varanasi. Owing to certain domestic circumstances, the entire responsibility of the business fell upon Ashish's young shoulders while he was still in school. In fact, circumstances dictated that he take a two-year break after his time in intermediate school. But, in due course, he was able to pursue his B.Tech in Varanasi. Bright as he was, Ashish was immediately picked up by Infosys after completing an Engineering program.
"Doing MBA was always high on my list of priorities," Asish says. "I always had an inclination towards people (consumers) and their psychology. It was something I had been always doing in my family business, continued doing with my clients at Infosys, and recently at Godfrey Phillips during my SIP, and this will be my strength at Dell."
When asked what helped him getting placed with DELL, Ashish syas, "Selling Lifebuoy Soap to Mr. Manmohan Singh. It was my task during the interview, and in all seriousness, I managed to do an excellent job. The most important thing at FORE is the faculty and the kind of experience and academic rigour they bring to the table. They really push you hard to analyze things from different perspectives and ensure that you exploit all opportunities to learn. It's really challenging, and one has to be on his or her toes all the time. Secondly, we have so much of extra curricular activities at FORE that besides having loads of fun, one also derives a feeling of satisfaction for having served the society and the less privileged."
At Dell, Ashish will be responsible for end-to-end sales, managing and growing existing accounts, and also adding new accounts. Ashish is well prepared for and excited about working for Dell, which is easily one of his dream companies. His eyes light up and you can sense the eagerness in his voice when he speaks about how eagerly he is waiting for the day when he'll be joining Dell: "I have worked in Infosys earlier. But Dell being world class, the level of passion and commitment will be far more. I am going to give my 200% to the company and my role. I am determined to make a big impression for FORE in Dell." Five years down the line, Ashish sees himself heading an entire unit of Dell, and, hopefully, tapping into completely new markets.
While others in his place might be tempted to take it easy, that is not Ashish Jalan. Having landed one of the most sought-after placements in the market, Ashish is still in the thick of action at FORE.. As a member of the Placement Committee of FORE School of Management – that is the FORE Career Division – Ashish is on the ball, always looking for the best placement deals for his colleagues.