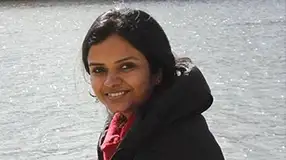 Profile : From Fashion to Food, Devina Jain of PGDM, FORE School of Management, New Delhi had a lot to chew on during her ESC Rennes exchange program
"I had studied French in school. I think that got me through the interview for the exchange program," says Devina Jain. Finding out that she was selected for the program during a lecture meant she couldn't even celebrate the news the way she wanted to. "The professor was teaching and I was jumping on my seat," she says. "I didn't know how to control my happiness. Till a week before, I couldn't imagine I'd be going to Europe, and here I was."
Travelling to a foreign destination can be all about first impressions, and for Devina it was the fashion sense that stood out. "France is the fashion capital of the world and people are very particular about how they dress up. Even for breakfast they'd come dressed in their finest and I'd go down in my pyjamas and slippers," she says. Luckily for her, Devina was in the country during the sales season, which meant shopping trips every day.
While she got over the fashion hurdles rather quickly, Devina, a vegetarian, had to contend with culinary woes. "I didn't have too many options there," she recalls. "Back home I'd be able to make Maggi, but I now I have learned a few more dishes. Thankfully, the hostel I stayed in offered us breakfast." Devina was quite lucky in that sense, because she was the only one who was able to get accommodations at the hostel of her choice.
Being on her own in the hostel also meant Devina had to go out and make friends beyond her exchange group. "It was an exciting experience and I hung out with a few Indian friends I made," she says, describing the experience. "The French students were not that interactive, but the overall atmosphere on the campus was fantastic. You could hop on a bus and see the place or take your cup of coffee in the classroom." Devina is also grateful to the faculty members at ESC Rennes, all of whom she found very accessible and welcoming. She calls their interactions, "less formal than back home", which also helped in her learning during the program. "I studied corporate social responsibility, strategy, customer service experience and HR," she explains. "I was interested in CSR the most as it is a new field in India, and some of my friends and professors back home were interested in knowing more about it." Her learning has made such an impression on Devina that she hopes to work in CSR: "One thing I learned a lot about is the Health Care industry. They are doing everything possible there to ensure that people have access to medicine, so that they can enjoy healthier lives. India is a economically backward country and people are dying because of many diseases as they can't get the right medical help. I think it's a huge problem."
According to Devina, the exchange program has had a huge influence on her life and her way of thinking. "It has been life changing," she says. "I have met people from all over the world and become friends with some. It was the first time I was leaving the country and I never thought I could stay away from Delhi. The program helped me shed a lot of prejudices about the French and it has certainly made me a lot more independent."
Devina had worked with Delloite in the past and used some of her savings to foot her travel expenses during her stay. She had a once in a lifetime opportunity and she was going to make the most of it. "I travelled around and loved Budapest the most. It has the Chain Bridge where the famous scene from 'Hum Dil De Chuke Sanam' with Salman Khan was shot. It was great," says the girl who herself managed to bridge the gap with the West.