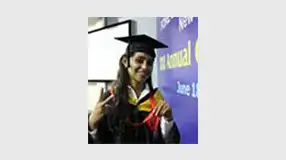 Profile : Poornima Choudhary of FMG 21 Batch strikes Gold, winning the prestigious Scholastic Award and embarks on a promising professional journey
When the FMG 21 batch of FORE School of Management, New Delhi assembled for their first day of lectures, their professor urged them to work hard over the next two years. They were told about the gold medal that would be awarded to the most deserving student at the end of their time at the institute. Amongst the management hopefuls was a young girl who, at that moment, set her eyes on the coveted prize. Over the next two years, she remained focussed on her goal and gave her all to achieve it. Meet Poornima Choudhary, the Gold Medallist and winner of the Scholastic Award of FMG 21.
Her first day at the institute is etched in Poornima's mind forever as it made her aware of the challenges that lay in front of her. She looks back and says, "We used to wonder how we'd be able to manage 20 hours of assignments, projects, presentations, etc. But today, I feel all the hard work has paid off. I am thrilled and excited." And there's another reason for her to be excited. Poornima has started her journey in the corporate world and, with her confidence boosted, is raring to go.
"I have been placed with Deloitte as a Business Analyst in human capital," she excitedly tells us. "I am working in the Hyderabad office and I am already impressed by the work culture there. The open culture and warmth you get at Deloitte, you just cannot get that anywhere." It's the first job for the B Tech in Information Technology from Delhi, and also her first time in Hyderabad. It's an opportunity she's already begun to relish.
It was Poornima's desire to work in management positions that brought her to FORE School of Management, New Delhi after earning her B Tech. She believes the move started paying dividends from day one and has worked out handsomely for her: "I was a fresher with absolutely no work experience. So right from the orientation day, till now, I have seen my confidence grow. I can get up on stage and speak on any topic without hesitation."
That's a sea change for Poornima, who admits that she lacked confidence when she started out with her FMG program. She would be one of the students sitting on the back benches, partly because she felt nervous in the classroom. But, over time she understood the importance of sitting in the front of the class and maintaining eye contact with her professors. "It's important to be in the limelight. If you have something, why not let everyone see it?" she says.
Besides working on building her confidence, Poornima also believes that the program prepared her for the corporate life ahead. Things might have seemed tough during the course of the program but they were leading her in the right direction. "At FORE School of Management, you are put through the grind from day one. You have lectures from 9 am to 5 pm, sometimes 6 pm. When you enter the corporate world you realize how managing your time on a daily basis is crucial to your job," she says.
Poornima also speaks highly of the versatile curriculum that, according to her, exposes students to practically every area of the corporate world. "From Finance to Marketing and HR, we got a taste of everything," she says. "We could pick what we were good at or interested in. When that happens you become passionate about your choice and never regret it." It is clear that Poornima is enriched by her experience and, of course, the Gold medal to boot.