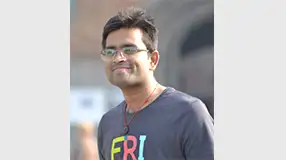 Profile : "Circumstances in life are the best teachers", says Vikalp after attending his ESC Rennes exchange program as a part of the PGDM course of FSM, New Delhi
"I tried learning some French online and tried to do some research about French culture before heading there," says Vikalp Mehta, one of the students who went to ESC Rennes through FORE School of Management's exchange program. Vikalp considers travelling to Europe a dream come true. So, when he stepped off the plane, he promised to work hard and continue to put his best foot forward.
Vikalp feels that some of his education came outside the classroom. While at ESC Rennes, he discovered his culinary talents: "I am a vegetarian, so I tried looking for some Indian restaurants in the area, but there weren't any. So we'd cook some rajma, dal and rice with other vegetarians in the group. I have become a good cook now". This was just a part of the exchange program, which, overall, Vikalp considers a huge learning experience. Clearly, as Vikalp realized, the adage "circumstances in life are the best teachers", works well to describe his time in Rennes.
While cooking was a skill that came easy to Vikalp, connecting with international students, especially with the French students, was a bit more difficult. "Once I was stuck in a group with four French students and there was hardly any communication between us", he says. "That's how they are culturally; there's hardly any interaction. I made friends with students from the US, Czech Republic and Poland but no French". However, with an optimistic tone, Vikalp says, "Now I know I can survive anywhere in the world. Initially it was difficult for me to interact with students from different cultures. They didn't understand me and I couldn't understand them. But over time I could deal with that, which I am quite happy about." And to complete the experience, there are, of course, the opportunities for learning inside the classroom. Vikalp, a marketing major, tried to make the most of the classes offered during the program in order to boost his credentials. "I took most of the marketing subjects, consumer behaviour, and consumer management", he says. "These classes were very interesting because they were practical and interactive. There were case studies, which helped us relate the concepts to real world applications. We had to think and be creative, which is important in marketing".
Vikalp noticed some differences between the classroom environment in France and the one back home. And, these differences made an impression on him: "The most interesting aspect was that they tried to involve each and every student in a discussion. In India, not everyone gets involved ? in Rennes, professors encourage and motivate you to be a part of discussions. I like the classroom spirit they had".
Not only did Vikalp learn important marketing and business concepts, he also managed to pick up some of the French language. The fact that the French course was compulsory for International students helped his cause, he admits: "All PGDM students opted for it. The way they teach French is completely different. It was a very practical program; everything from reading, writing, speaking, it was all quite good".
Being in a "dream destination", Vikalp wasn't going to miss out on the prospect of exploring tourist attractions nearby. His three day trip to Amsterdam remains a highlight for him. "I love my sleep, so if I have time off I can sleep for 16 hours at a stretch. But for three days in Amsterdam I didn't sleep at all" he fondly recalls. His time in Rennes will stay with Vikalp for life. Remembering all that he was able to experience while on the exchange program, Vikalp has nothing but praise: "It was an amazing experience overall. It has made me more flexible and independent as well. And if I get an opportunity to work with a French company, I'd have an advantage because I am already accustomed to their culture". Clearly, the experience in Rennes has left Vikalp brimming with confidence.