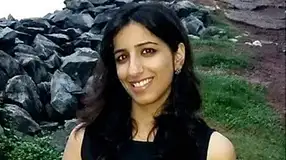 Raashi Sodhi is an ideal knowledge society student, driven completely by the desire to know more and learn more. There is no better way of explaining this than looking at the reasons she journeyed to FORE School of Management.
Raashi has deep roots in Chandigarh, doing her entire schooling from Sacred Heart Senior Secondary School, and BSc in Biotechnology from DAV College. Deeply intrigued by Microbial Biotechnology, she plunged into the pursuit of a Masters degree in the subject from Punjab University, Chandigarh. A meritorious student all the way, Raashi was given recognition for being 4th in the order of merit in the entire University. However, the story of her ceaseless quest for knowledge doesn't end here. During her Masters in Microbial Biotechnology, she found herself getting increasing involved with understanding the fine points of patent law. So she promptly signed up for a Postgraduate Diploma in Intellectual Property Rights Law from National Law School of India University, Bangalore.
"Having developed a comprehensive technical know-how of my field and having built a strong scientific foundation, I wanted to explore the corporate side of these sectors. Using my scientific and analytical bent of mind, it would be a perfect bridge for me to enter the industry. Equipping myself with a Postgraduation in Management from FORE School of Management gives me the right platform and skills to plunge into the managerial side of the business."
Raashi believes her acceptance to FORE School of Management is a testimony to its commitment to creating a diverse batch, where each classroom is a melting pot of diverse ideas and experiences. "I am thrilled to have made it to FORE School of Management. The competitive environment at FORE gives you a great blend of student and corporate life. The faculty at Fore School of Management is endowed with rich industry experience. It has a well-developed Student Council Activities structure that provides students a great platform. The corporate exposure brought about by Anubhuti sessions, industry visits, Rural Marketing visits and guest lectures is highly enriching. This year they have also added a compulsory foreign trip to add to the global exposure."
Despite listing all these great initiatives, Raashi concedes that settling into the MBA was not a cakewalk.
"Initially, I was apprehensive and took time to adjust to an environment with people from extremely diverse backgrounds. Also, it did take me some time to get into the groove with subjects related to Finance. I worked hard, started to learn the basics of Finance, built a strong base and now am absolutely comfortable with the financial jargon. In fact, the faculty at FORE School of Management is so good that if you are willing to work hard, they simply take care of the rest. It was thrilling to learn about marketing concepts from teachers who launched suchsuccessful campaigns and actually lived through them."
Being a part of the Cultural Committee (Team Nexus) has helped Raashi indulge her creative side as well. To her, FORE School of Management is no longer about the Masters in Business Management alone; it is now the nurturing ground for her individual growth. And with this added impetus behind her, she is sure to be unstoppable when she does get out into the corporate world.