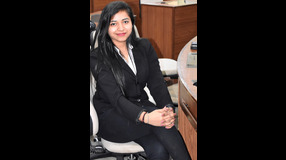 I vividly recall the day I filled out the application to join the FORE Community because of its outstanding alumni network and diversified career options with dual specialization, and as soon as I got a call from FORE which assured my admission I was thrilled and excited to contribute to this imminent institution.
"An institution that not only encourages you to strive to be the best but also gives you plenty of possibilities to grow professionally and improves you as an individual"
Ever since the beginning, FORE has been an absolute learning stone for me. Despite the lockdown and an online environment, I tried to get the most out of my two-year journey. By creating strong networks with an incredibly brilliant group of people, some of the top faculty members on board, guiding juniors in the most affable manner, and experiencing peer-to-peer learning, FORE has helped me grow culturally and socially to the heights I could never have dreamed.
I truly exceeded my expectations at FORE, representing the institute at different levels, being a part of FORETech; a tech team at FORE, winning a number of business competitions, participating in students' council elections, receiving a rich internship at the Central Financial Institution of India, the RBI, and ultimately being hired by one of the top companies in the banking sector, ICICI Bank.
Although words alone cannot express my gratitude and appreciation for FORE, I could only wish the present and upcoming cohort to maintain the legacy of FORE to be the best in the market by seizing the opportunities that come their way, because doing so not only earn them recognition but will also give them the self-assurance to go forth and exhibit their greatest qualities to collectively grow the brand.