FORE Marathon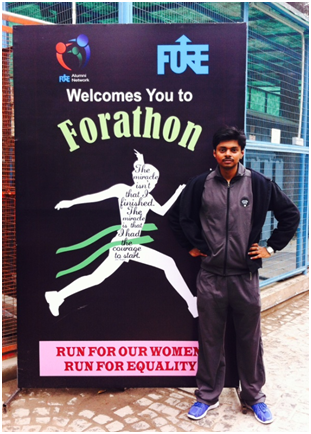 FORATHON: A run for Women Empowerment"
FORE Alumni Network organized FORATHON, the first ever marathon at FORE School of Management, New Delhi on March 15, 2015. The cause of marathon was 'Women Empowerment and Equality', something that concerns current scenario in India to a great extent. The college alumni from different fields were invited to run for the cause. Students as well as guest alumni assembled at the college premise and the marathon commenced enthusiastically .The marathon, which was a 5 km stretch from FORE School of Management in Qutub Institutional Area, to JNU and back to the college, began at 6:30 in the morning.
With a cool breeze blowing all through the course, it was a great experience for all the runners to be a part of the cause. In fact the cool weather gave a boost to all participants .The entire event went ahead in a peaceful and energetic manner, making it a great experience for all those who stood up and ran for the cause that requires attention from one and all in the society.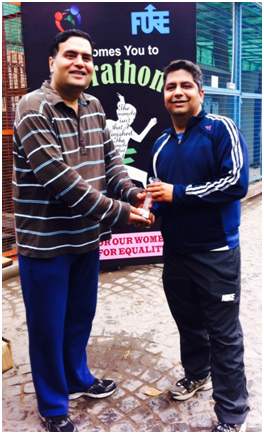 Deepanshu Saxena, a part of FMG 18 (2009 – 2011 batch), and currently working as a SAP FICO Consultant in TCS, won FORATHON by completing the stretch first. Runner up of the marathon was Deepak Batra, a part of FMG 11 (2002 – 2004 batch), who presently is a part of HDFC group as the Cluster Head. The event, with active participation from alumni as well as students, became a great success for creating awareness for women empowerment.